Half a million
employees annually report suffering from work-related musculoskeletal issues (1)
Between £26.6bn to £29.3bn annually
is being spent on presenteeism (2)
£18 billion annually
is being spent on workplace absenteeism (3)
The amount of time your employees are spending sitting could be contributing to these issues. Data shows that desk-based employees spend a large proportion of their day sitting down.
Office-based staff spend a large portion of their day sitting… (4)
of working hours are spent sedentary
of people that are sedentary at work are found to be more sedentary outside of work
Evidence shows that people who sit a lot compared to those who don't, are at higher risk of…
increased MUSCULOSKELETAL ISSUES
DECREASED COGNITIVE FUNCTION
INCREASED DEPRESSION & ANXIETY
INCREASE IN WAIST CIRCUMFERENCE
increase in MUSCLE WASTING
INCREASE IN CARDIO-VASCULAR DISEASE RISK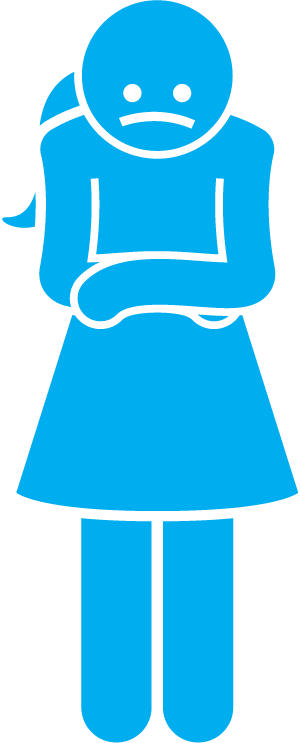 DECREASE IN quality of life
Introducing Stand More At (SMART) Work and Life
Smart Work and Life is an evidence-based programme from the NHS, Smart Work & Life offers a wide range of tools to help organisations to create a dynamic workplace and to encourage employees to sit less whilst working and throughout the rest of their life. In doing so, there are many benefits to employees and employers.
Just 1 hour reduction in workplace sitting has led to… (5)
of staff feeling more energised
feeling more engaged at work
feeling less fatigued after work
of staff experiencing less pain
of staff feeling more focussed
of staff feeling more productive
of staff feeling less stressed
of staff reported an improved quality of life
This is what employees thought about taking part in SMART Work and life…
I feel more alert when I am working and more productive.
Sitting less at work has definitely improved my performance at work. I used to suffer badly with the post lunch slump however I have found standing and moving more at work helps to alleviate this.
Apart from the obvious health benefits, I have experienced that just by standing, I have felt more confident and my concentration has increased. I feel that when I stand, I am more open to having conversations and especially more proficient in dealing with problems.
I feel less tired at the end of the work day.
SMArT Work has indeed changed the social dynamics of my workplace. I often find that the discussions I have with my colleagues are much shorter, more focused and quick.
Standing up during the day, especially when you hit that midday slump, really helps improve concentration and productivity.
All these benefits have been shown to improve the health and wellbeing of your workforce and reduce presenteeism and absenteeism = cost savings
Our research has found that… (6)
£4.72 return
For every £1.00 an employer invested
Employee productivity improved
By an average of 1.75 hours per week over a 12 month period
Get in touch
To receive our free starter kit and to organise a no-obligation quotation for any of our SMART Work and Life packages, please register your interest.
REFERENCES
Health Service Executive (2021). Work-related

 

musculoskeletal disorders

 

statistics in Great Britain,

 

2021. [online] Available at: https://www.hse.gov.uk/Statistics/causdis/msd.pdf [Accessed 8 Aug. 2022].
Deloitte (2022). Mental health and employers: The case for investment – pandemic and beyond. [online] Available at: https://www2.deloitte.com/content/dam/Deloitte/uk/Documents/consultancy/deloitte-uk-mental-health-report-2022.pdf
FirstCare (2019). CHANGE AT WORK. [online] Available at: https://tinyurl.com/4m6xdxe5 [Accessed 8 Aug. 2022].
Clemes SA, O'Connell SE, Edwardson CL. Office workers' objectively measured sedentary behaviour and physical activity during and outside working hours. J Occup Environ Med. 2014;56(3):298–303.
Edwardson C L, Yates T, Biddle S J H, Davies M J, Dunstan D W, Esliger D W et al. Effectiveness of the Stand More AT (SMArT) Work intervention: cluster randomised controlled trial BMJ 2018; 363 :k3870 doi:10.1136/bmj.k3870
Munir F, Miller P, Biddle SJH, Davies MJ, Dunstan DW, Esliger DW, Gray LJ, O'Connell SE, Waheed G, Yates T, Edwardson CL. A Cost and Cost-Benefit Analysis of the Stand More AT Work (SMArT Work) Intervention. International Journal of Environmental Research and Public Health. 2020; 17(4):1214. https://doi.org/10.3390/ijerph17041214